Adults For Sale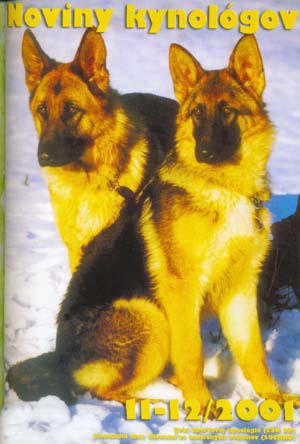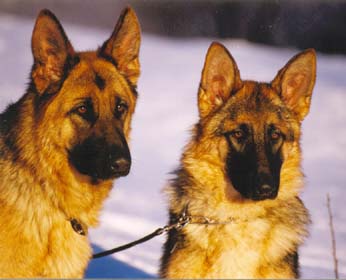 Zilla is on the left in both images
Zilla z Lintichu
Titles: SchH1, KKL1
Show Rating: V
Hips: "a" fast-normal
Sire: V-Miko v. Alexyrvo Hof, SchH3, "a" normal, son of World Sieger, Ursus v. Batu
Dam: V-Jagna z Lintichu, "a" normal, dau. Of VA-Leif v.d. Noriswand, SchH3)

Zilla is a striking female with a large masculine head, beautiful color and solid bone. She has a smooth gait and excellent working drives with a hard bite and full, calm grips on the sleeve. She will be an excellent addition to any breeding program looking to improve pigmentation and structure. She is an excellent mother and has whelped 2 beautiful litters of 6 and 8 puppies. Her beautiful head has graced the cover of a magazine as well as a brand of dog food. She was class Siegerin under judge Hans Peter Feten.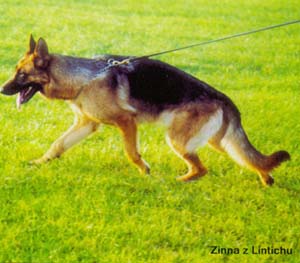 Zinna Lintichu
Titles: SchH1, KKL1
Show rating: V1
Hips: "a" fast-Normal
Same sire and dam info as Zilla

Zinna is a beautiful female with excellent type who placed SG49 in a German Sieger Show (2001 Karsruhe). She has nice working drives and her bitework is very good. If you are a serious show person then this is the female for you. Zinna loves to show and will make you look good in the show ring. She is also an excellent mother who produces large litters with excellent pigment and structure. Her grandsire is 2000 World Sieger, Ursus v. Batu and the pups that she produces are typical of his bloodlines. Zinna has been multiple Siegerin of young and adult classes (under SV judges Heinz Huhn and Leonard Schweikert).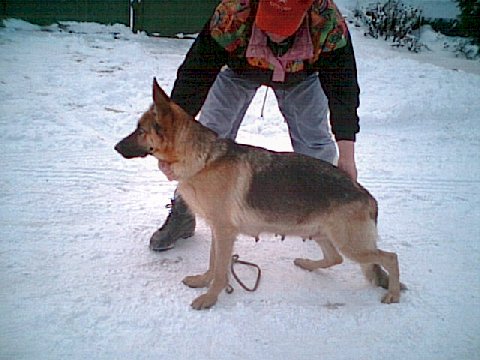 Tiana z Lintichu
3 and a half years old
Titles: SVV1, KKL1
Hips: A
Sire: VA Hettel della Grande Valle
Dam: Tera z Lintichu, VA in the Slovak and Czech Republics
Tiana is a very social dog with excellent temperament. She bites well on the sleeve. Tiana is a proven mother, having had 2 litters in Slovakia, and would make an excellent addition to any breeding program. She is excellent with children and would also make a great family companion/protector.
Tiana's sister has been Seigerin of the Czech Republic 2 times and Slovakia and Hungary once.
Tiana's Pedigree(part1)
Tiana's Pedigree(part2)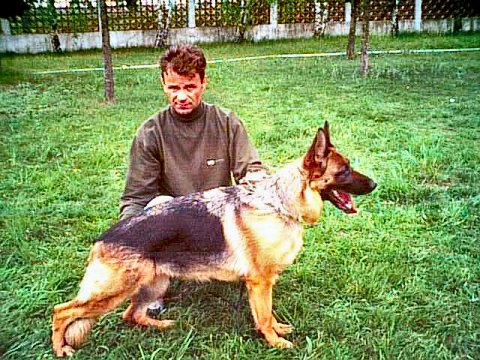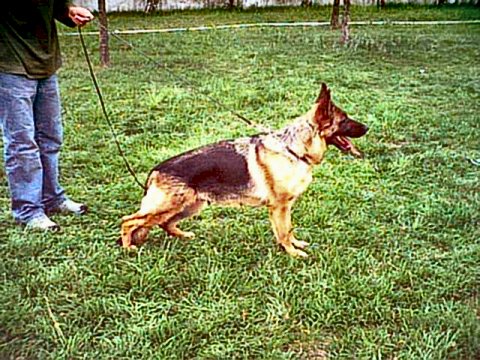 Enchi z Lintichu
DOB: 10/1/99
Titles: IPO1
Breed Survey: 5J17/23
Show: V
Hips: RTG DBK "C"
Sire: V-A Vando v. Moorbeck, SchH3
Dam: V Helly v.d. Wienerau, SVV1
Enchi is a structurally beautiful female with a dark black muzzle, dark eyes and a wonderful, social temperament. She has had 1 litter of 7 puppies so far and is a very good mother. Enchi is a great prospect for show, breeding, or a family protector/companion.
Enchi's Pedigree(part1)
Enchi's Pedigree(part2)